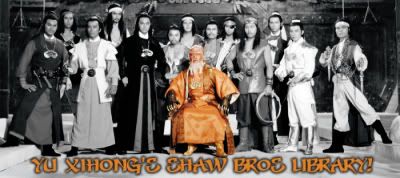 For the past year and a half I've been compiling Shaw Bros music and cues. Like I said in the last post, even as a child I really had a thing for movie music. I've been watching Shaw Bros since I was in the womb. As time goes on, this music is finally starting to get some of the recognition it deserves. I would never have dreamed that I could have found this stuff. In all, I have about 1.25GB worth so it'll be uploaded in a number of posts. Who would have thought the whole first post would be just numbers? Aside from that, originally I thought Shaw was exclusively De Wolfe but I've found that they would use pretty much whatever sounds good. They've lifted cues from spaghetti westerns, poliziotteschis, 007, american action films, giallos, UK and japanese tv series' and who knows how many other places.

I was listening to any and everything that fell under those categories and I became obsessed. That's also how I got into library besides instrumentals. So I'm not so caught on IDing cues. It's funny that I can look back and see how much "greatness" I've missed because I paid no attention to how good it sounded, I just knew it wasn't a familiar Shaw Bros tune. I'm not listing individual tracks because there are so many. This first part is 87 files alone... so I'll just list the movies. Also, I paid the ID3TAGs no mind. If you really want to know who a certain track is by I may be able to find out. They are strictly listed by filename.

2 Champions of Shaolin
3 Evil Masters
4 Riders
5 Element Ninjas
5 Shaolin Masters
5 Superfighters
5 Venoms
7 Man Army
8 Diagram Polefighter
10 Tigers of Kwangtung

Keep in mind that the quality varies alot. Some of these are original rips, some are streaming rips, some have sounds, and some sound like crap (my earliest ones). With all of that being said, enjoy and feel free to discuss and or contribute tips as to where I can find more. BTW, Yu Xihong (Ironboat) is a name I've used on a number of Shaw Bros/music forums over the years.